We provide research services to the department's research faculty, collaborators on federally funded investigations, and industrial sponsors performing clinical trials. That most admitted patients enter Brigham and Women's Hospital through our emergency department creates opportunities for extensive collaborations with our colleagues across medical specialties. In addition to our work with investigators at other Harvard teaching hospitals, we have independent and international collaborations in place. These successful research relationships build on our exceptional ability to identify, screen, recruit, and enroll research participants the moment they present to the healthcare facility.
Our research program is home to many ongoing research projects sponsored by federal, foundation, and industry grants and contracts. We have a state-of-the-art clinical research laboratory equipped with four work stations, -80°C freezers, 2-8°C refrigerator, refrigerated centrifuge, and extensive filing and data management capability. Our biggest strength is being located inside our emergency department; this allows us to conduct research screening and administrative research procedures in privacy while allowing us immediate access to our incoming patients and clinicians.
We also have a 2,000 sq. ft. research floor in our hospital's George W. Thorn research building; this space includes close to 20 workstations, meeting areas, and extensive storage and secure data storage space. Most importantly, this will be a space cohabited by our department's brightest researchers and the mixing of ideas will certainly create more exciting research ventures.
Our team works closely with the BWH EM Division of Emergency Critical Care Medicine, BWH Center for Clinical Investigation (CCI), BWH Digital Innovation Hub (iHub), Crimson Core, and BWH EM Office of IDEaS.
The following areas of research are not exhaustive.
Hematology (sickle cell anemia, VTE, COVID-19-related coagulopathy), neurology (stroke, intracranial hemorrhage), cardiology (cardiac arrest, TTM), dermatology (cellulitis, urticaria), pulmonary (influenza, ARDS, pneumonia), infectious disease (COVID-19, sepsis, urinary tract infection).
Educational interventions in HIV care, antibiotic stewardship, identification of substance abuse disorders in the ED, hand hygiene, health equity projects, vaccine effectiveness study, nutrition study, public health threat identification study.
Novel Point-of-Care (POC) testing devices, digital health intervention, patient-facing technology innovation, music intervention studies.
BEHAVIORAL HEALTH AND SERIOUS ILLNESS
Palliative care interventions, Advance Care Planning (ACP) in the ED, traumatic brain injury, post-traumatic stress disorder, behavioral health intervention in the ED, cancer-related pain studies.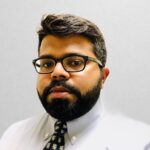 Guru Jambaulikar, MBBS, MPH
BWH EM Research Director
MBBS: Maharasthra University of Health Sciences; MPH: UMass Amherst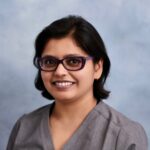 MBBS: Pravara Institute of Medical Sciences; MPH: Boston University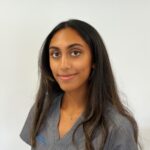 BA: College of William and Mary Srinidhi Manchiraju, MBBS
MBBS: Rajiv Gandhi University of Health Sciences BA, MPH: Brown University Anastasiia Korolevskaia, BA BA: Hamilton BS: Cornell University BS Candidate: Northeastern University BS Candidate: Northeastern University BS Candidate: Tufts University BA Candidate: Dartmouth College
If you are interested in joining our team, please review the Research Assistant Job Description and fill out our interest form here. Student internships may be considered on a case by case basis. Only shortlisted candidates will be contacted.
+ 1 (617) 732 5638 (Mon-Fri, 08:00 AM to 08:00 PM )
75 Francis St, Suite TH-13-1303, Boston, MA 02115